I was intrigued to see a news item that appeared in a newspaper, a well dressed Russian Tourist was seen seeking alms in front of a temple in Kancheepuram, a temple town in Tamil Nadu, India. He has broken his ATM card out of frustration after a few attempts of withdrawing cash from an ATM failed. He ran out of money and desperately needed cash to get back to Chennai and connect with Russian Consulate to take help.
Here is a gentleman, who has sufficient balance in his bank account back home and yet made to seek alms in front of a temple. While digital adoption, mobility, IOT, etc. is revolutionizing the way we live, work, learn, play, I was surprised that his bank or the technology did not help him when he is stranded.
Thus, it becomes imperative that, when people and devices interact in the connected world, there should be an absolute synergy among humans, machines, software, and environments. The quality and efficiency of those interactions and the insights gathered from them would determine the ability of future enterprises to be transformative and achieve the business outcomes needed to thrive in the digital age.
This brings up an interesting topic of how two complementing technologies, IoT and enterprise mobility can open up humongous opportunities for enterprises and the impact of IoT on enterprise mobility.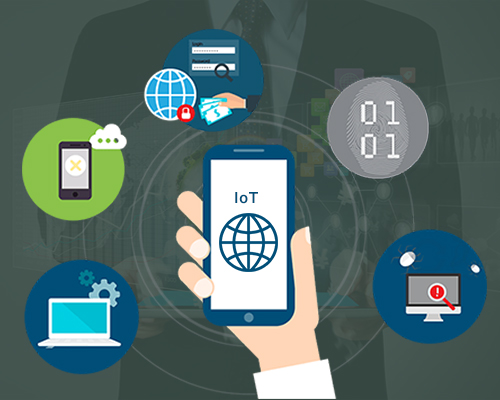 In the past few years, enterprise mobility enabled the creation of mobile-driven business processes, extending business applications and contextual data to the field work-force that immensely helped many businesses grow and let to the emergence of many new age enterprises. Today, enterprise mobility has evolved from just extending access to business applications and business data into a new indispensable business tool incorporating a range of new age technologies such as Biometric, Location Tracking, Geo-Fencing, Virtual Reality, Proactive Business Analytics, Artificial Intelligence, etc.
Going forward, the Internet of Things (IoT), the intelligent connectivity of physical devices combined with appropriate enterprise mobility solutions can drive massive gains in efficiency, business growth, and quality of life.
It is estimated that by 2020 over 5 billion devices would connect to networks, that is approximately seven devices for every human being on the earth (human population is expected to touch around 7.5 billing by 2020). A whole gamut of devices from Home / Daily Live Devices, Public Infrastructure, Health-Care, etc. would form part of the connected world driving efficiency and quality of life. But, first and the foremost would be the devices that enable business growth will become part of the smart network.
IoT promises real-time visualization of critical data and a staggering number of end-point devices that would form part of the smart network. This will churn out an enormous amount of data that will have a profound impact in the way a business interacts with its stakeholders that include employees, suppliers, customers, institutions, government & statutory bodies, investors, etc.
Many industries have the potential to derive substantial gain through this technology alignment. Some of the industries that  are;
Manufacturing
Health Care (health monitoring, medical diagnostics)
Education & Entertainment
Banking, Financial Services & Insurance
Precision Agriculture and Animal Tracking
Urban Public Transport
Transportation and Logistics
Retails & Distribution
Security and Surveillance
Environmental Monitoring
Smart Grids and Energy Control Systems
Public Infrastructure Monitoring
Smart Buildings (e.g., indoor climate control)
IoT has an overwhelming impact on how enterprises take advantage of connected devices.  Enterprise Mobility enables IoT and helps enterprises to utilize the intelligence gathered from the humongous amount of data generated by Intelligence Sensors, Connected Machines, Smart Eye Glasses, Wearable Devices, etc.
Be it an enterprise mobile solution that brings real-time shop-floor visualization to the floor manager to take informed decision and be more collaborative,
–  An insurance service provider, who pro-actively helps a client who met with an accident or
–  A healthcare service provider who monitors postoperative status of a patient or
– A precision former who decide on water supply based on live crop condition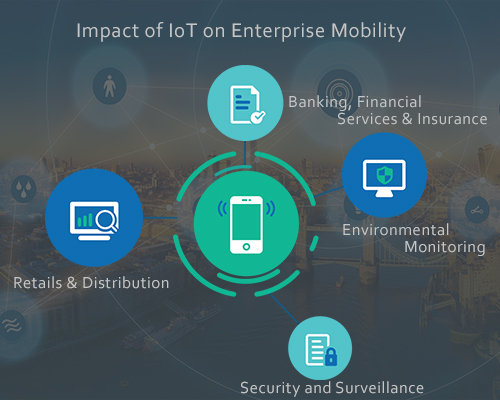 There is a huge need for building specific mobile solutions to use data churned out by IoT. The global market for enterprise mobility that reached around $ 120 billion in 2016 is expected to grow to $ 200 billion by 2020, registering a compound annual growth rate (CAGR) of 15.2% from 2015 to 2020. This is without considering the impact IoT can have on Enterprise Mobility. Some of the analyst estimates, with IoT impact, this market could balloon to $ 500 billion by 2020.
While the IoT and Enterprise mobility combined bring in many opportunities, it also brings with it a range of challenges for enterprise mobility business;
Demanding, robust, scalable data management techniques and real-time data analytics to handle massive data volumes churned out by various sensors and devices.
Accommodating ever-increasing need for innovative interfaces to enable newer ways of interaction between human and Machine (Voice, Motion Sensors, etc.)
Securing and managing a diverse range of sensors, devices, and machines that will form part of the smart network.
Need to build improved data capturing techniques and thus enhanced resiliency on device and network outages.
Need for developing hyper-personalized enterprise mobile application to efficiently manage stakeholder relationship and touch points and grow the business.
In a nutshell, for the next few years, the journey for the enterprise mobility service providers it is going to be an exciting one.